About Thomas Fugate Furniture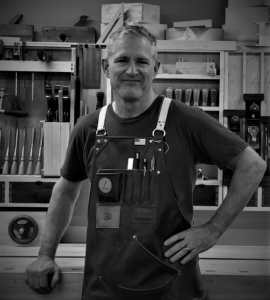 My goal is to create high quality, individually built furniture that meets your needs, exceeds your expectations, and bonds with your family and home through daily use. Choose Thomas Fugate Furniture for quality that spans generations; benchmade artistry built expressly for you and my lifetime commitment to your satisfaction. 
My designs are inspired by 19th and early 20th century American styles including Shaker, Arts and Crafts, and Midcentury Modern. It gives me great joy to capture my clients' vision with my artistry to create exceptional, one of a kind work. Expect sleek lines, thoughtful proportions, and functionality above all in every piece I create. 
I prefer to work in native, sustainable North American species like Cherry, Oak, Ash, Maple, and Walnut. I use time honored joinery methods like mortise and tenon, dowel, and dovetail joints. In virtually everything I make, you will see evidence of these practices in my exposed joinery.
Tom began woodworking in 1988 when he answered an add in his college student employment office for a construction laborer. The builder / homeowner was Master Cabinet Maker and Boatbuilder Kenneth Reed who continued to employ, train and mentor Tom throughout his college years. During Tom's 26-year career in the US Army, woodworking was his place of solace. Today, Tom resides with his family in the foothills of the Shenandoah Valley where he continues his craft, designing and building one of a kind furniture.